MRI and Spinal Surgery for disk disease in dogs for $4800 in Grand Junction, CO
Contact Dr. Maguire today after reading the information below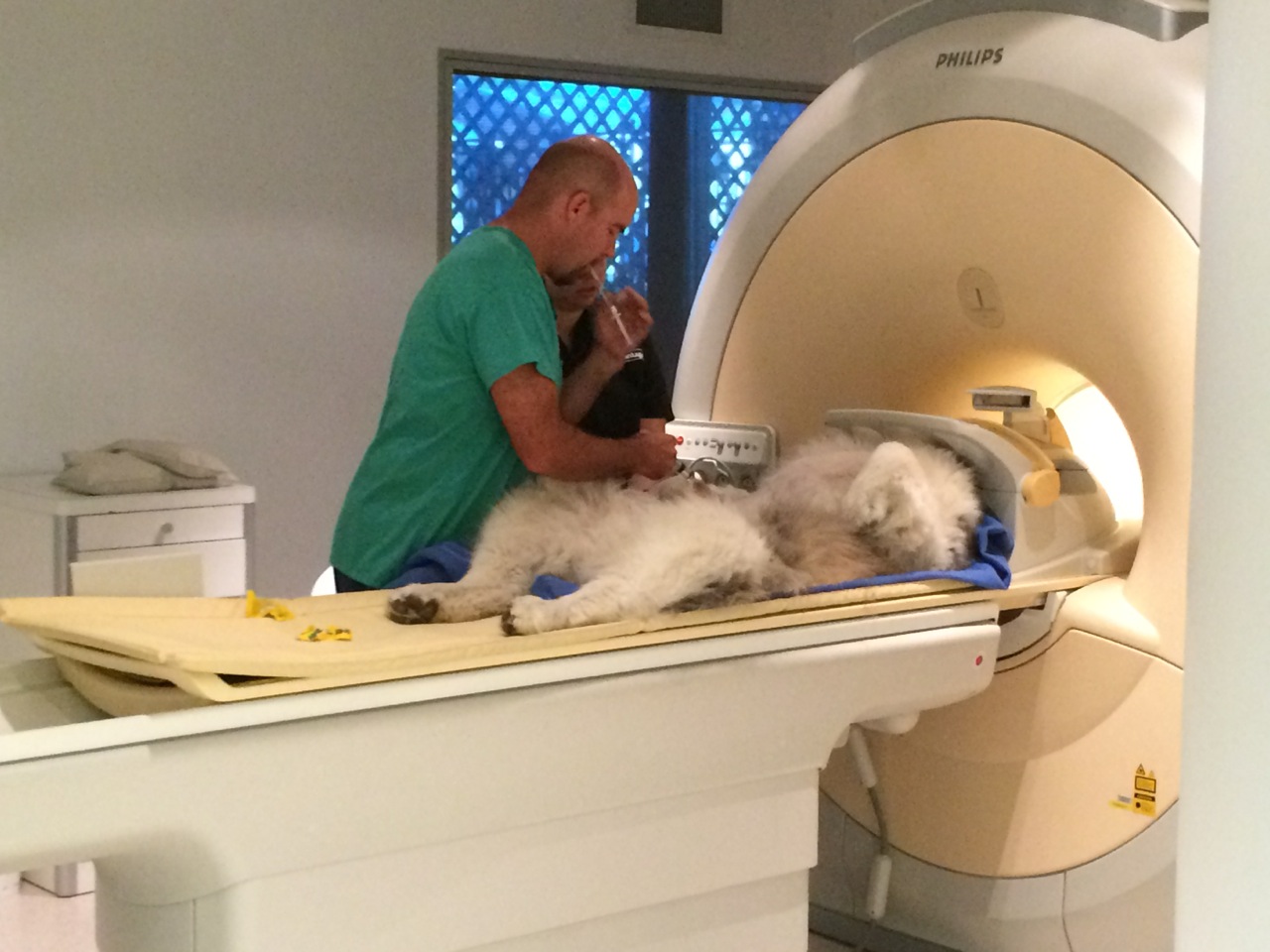 Performed in Grand Junction using a 1.5T high quality MRI unit. General anesthesia NOT required for MRI
Both for the fixed total price of $4800 if your pet's condition qualifies.
Special Rate fixed fee for MRI and Spinal Surgery for uncomplicated intervertebral disk disease (IVDD) in dogs
Dr. Peter Maguire (DVM, MS, ACVIM board certified specialist in Neurology/Neurosurgery) is offering MRI and Spinal surgery for dogs with uncomplicated disk disease at a set fee of $4800 for owners traveling to Grand Junction, CO for these procedures. This price includes:
1 hr. Neurological evaluation/consultation with Dr. Maguire

Regional Spinal MRI

Spinal surgery, hospitalization, anesthesia, injectible medications all included. Routine blood tests and prescription oral medications (if needed) are NOT included.

Follow-up on all cases as needed by email, phone or in person (one complementary recheck within the first month). Your post-op questions and concerns will NEVER go unaddressed.

Close coordination with your family veterinarian for aftercare after surgery.

Detailed written reports and surgical discharge instructions for you and your veterinarian.

One night paid accommodation (FREE!) at the Wine Country Inn in the heart of the Colorado Wine country in Palisade, CO during your trip to Grand Junction. This offer only applies to owners whose pet has MRI and surgery.
PLEASE NOTE! It is ESSENTIAL that you communicate directly with Dr. Maguire by email BEFORE making any plans to come to Grand Junction. I need to learn the details of your dog's condition before you make an appointment. After communicating directly with Dr. Maguire, an appointment can be scheduled with Dr. Maguire at Amigo Animal Clinic (970-245-0210). Contact Dr. Maguire directly by clicking here.
MRI and Spinal surgery for disk related problems in your dog will cost $7000-$10,000 on the front range of Colorado (Fort Collins, Denver, Colorado springs) and in other metropolitan areas nationwide. The same services can be provided by a highly qualified and experienced board certified Neurologist/Neurosurgeon in Grand Junction for $4800. Why Pay more? Why take your dog to a general surgeon when you can go to a board certified vet with specific training in Neurosurgery (with 20 years experience)? Why settle for a CT scan (cat scan) when you can get an MRI?
"What's the catch? Don't you get what you pay for?"
No catch. Providing a high level of care at the most affordable price is my priority. My practice is small, independent and with relatively low overhead as compared to bigger specialty practices in metropolitan areas. I can therefore pass savings on to you the pet owner. Most intervertebral disk related spinal problems in dogs (and cats) are curable…they should not be cost prohibitive.
"How will it work? What time commitment should I anticipate?"
Step 1: Discuss your pet's case with Dr. Maguire directly by contacting him on the CONTACT page
Step 2: Schedule your Monday- Wednesday appointment with Dr. Maguire by calling Amigo Animal Clinic (970-245-0210). Appointments should be made no later than 3pm.
Your dog can be scheduled for MRI the evening of your appointment, and if needed, have surgery the following morning. Most of Dr. Maguire's surgery patients can be discharged back to your care the morning following surgery, or in some cases, that afternoon the day of surgery. This is dependent in part on the pre operative condition of your pet and the precise nature of the disk herniation.
"Are payment plans available?"
No, payment in full is expected before your pet goes home with you. CareCredit, bank loans (Wells Fargo veterinary loans), or insurance claims need to be arranged and managed by you.
Read more about Dr. Maguire here.
Read real client testimonials here.